Best of the Blogs: The Cooking of the Green
The wearing of the green surely does make Irish eyes smile. And, yes, St. Patrick's Day brings out the green (not with envy) in anyone with a soft spot for the patron saint of the Emerald Isle. Ok, so maybe you're just not a corned-beef-and-cabbage fan, and maybe you're just not that into soda bread. How do you let your Irish flag fly in the kitchen?
Well, how about making the color green a centerpiece of your meal? No, that doesn't have to mean green eggs (with or without ham). It does mean using some of your favorite ingredients. There are a lot of bloggers out there with terrifically imaginative ways with green (and greens), most not intentionally developed for St. Patty's Day. Here, a few of our favorite finds, which we hope will inspire you to throw on the new Sinead O'Connor CD and cook up a green storm.
Let's get to the important part of the meal first: dessert. Blogger CakeSpy's got it goin' on with her Frog Cupcakes (pictured above), doing a mean impression of amphibian leprechauns. Her annual tradition, she says, involves cupcakes that "are usually vanilla, with a dollop of pink frosting, topped with green fondant and decorated like frogs. When you take a bite of the head, it's pink inside. It's awful and awesome all at once." We're with you, CakeSpy.
What can be more Irish than the potato? But for dessert? Blogger Sprinkle Bakes has come up with an ingenious concept: the Potato Petit Four, "small sponge cakes filled with buttercream and covered in marzipan." They may appear to be spuds, but these cocoa-powder dusted lookalikes are all sweets.
Grapefruit Guac: Tip your Guinness to the accompaniment of a mellow green appetizer with a spritz of tang. Blogger Marc, at No Recipes, decided to substitute grapefruit for lime in his guacamole, to tart and refreshing effect.
And while we're on the subject of one the world's best green things (avocados), we can't help but notice that Kristina Vanni, at Better Recipes' Daily Dish blog has gone low-fat and green with this Avocado Stuffed with Quinoa Salad. Kristina was inspired by travels in Peru, where quinoa is a staple of everyday eating. And, remember, the potato originated in Peru. The Irish and the Peruvians are practically soul mates.
Green Salad with Blood Oranges, Apples, and Hazelnuts: Sass and Veracity adapted this recipe from Cooking Light magazine, and loves its citrus vinaigrette. She even threw in some dried apricots for more fruit power.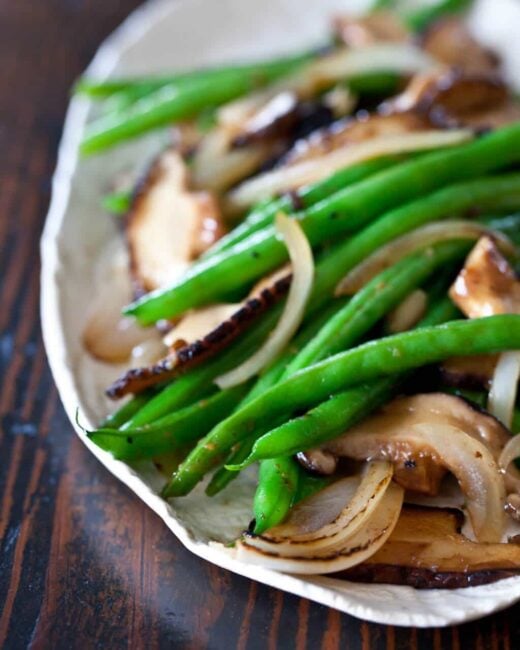 Blogger Jaden Hair is stir-frying green beans and shiitake mushrooms in her Steamy Kitchen. Her helpful hints include adding your garlic and ginger to the stir-fry after you've cooked your onions so they won't burn and turn bitter.
Vegan and Irish? Well, Vegan Planet has a green solution to your St. Patty's Day dilemma: a Crispy Kale "BLT," which is crisp-roasted kale "bacon," along with tomato, avocado, and lettuce, all wrapped up in a pita.
For blogger Bitter Sweet, green is in the peas and zucchini of her Sri Lankan-Inspired Cashew Curry, a spicy comfort food with plenty of nutty texture.
Southerners know that the best green comes in the form of collards and okra. Blogger A Fridge Full of Food has taken beans and greens south of the Mason-Dixon Line with her Sausage, Beans, and Greens, in which collards, pinto beans, and country sausage make one funky looking (but absolutely delicious) green stew. Sriracha sauce gives it heat.
Okay, okay, these Irish Cream Pots de Crème, from blogger Pass the Sushi (via Food Network Magazine), are not even the slightest bit green. Except in spirit. But the combination of rich chocolate, Irish cream, and espresso powder is too hard to pass up. Topped with whipped cream and shaved chocolate, these chilled desserts with a bit of smooth liquor would make a sweet ending to St. Patrick's Day.